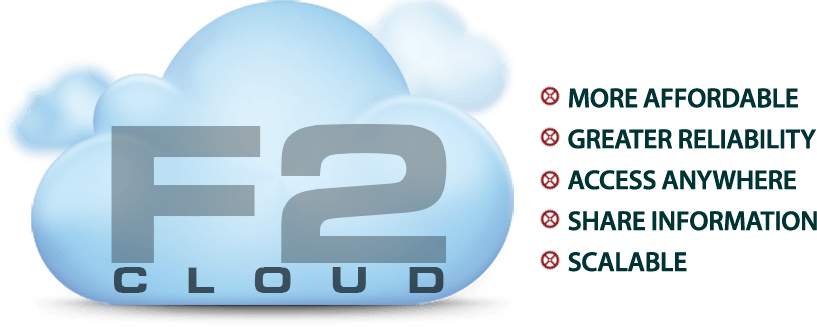 What is the Cloud?
Typically dealerships have used a local server or a personal computer to store, manage, and process data in their Dealer Management Software (DMS). More and more dealerships are now considering "The Cloud", which refers to using a network of remote servers hosted on the Internet. So for a dealership, rather than having a server onsite, the data and all related files are stored, managed and accessed from a remote location.
Why Host your Dealership in the Cloud?
Cloud computing allows dealers to focus on what's important. All dealership staff run F2 over the Internet, without the need for buying, installing and maintaining on-site servers. For dealerships the advantages and savings can be huge as software users only need a computer and an Internet connection. The F2 Dealership Software, your database and the servers all reside outside of the dealership in "the cloud" and are all managed by COMSOL.
How much does the Cloud cost?
Having your dealership software in the cloud is not as expensive as you may think. In-fact the low-cost, relative to on-site servers has been major factor in the popularity of dealerships choosing to run their software in the cloud. Get in touch today to find out exactly how much F2 Dealership Software in the cloud will cost you.
Top 5 Reasons to Manage Your Dealership Software in the Cloud…
#1-Lower Costs
Hosting your Dealership Software in the Cloud will
Completely Eliminate Hardware Costs

, Allowing you to Focus on Increasing Efficiency.

F2 DMS enables dealerships to decrease investments in technology and infrastructure. F2 DMS removes the need to invest in: Servers Microsoft Windows Server® licenses Microsoft SQL Server® database licenses Other Microsoft licenses, such as Windows CALs, SQL Server CALs, Remote Desktop Services® All of these licenses are included with operating F2 DMS in the cloud.
F2 Cloud helps dealers avoid or reduce other expenses:
#2- Increased Server Uptime
Access to Your Dealership Software, Whenever You need it.
F2 Cloud boasts a 99.95% uptime. We know the inability to use dealership software as a result of server downtime can seriously affect a dealer's business operations, not to mention frustrated staff and customers. Comsol has systems in place which allow us to respond almost immediately to issues regarding your server. For many dealers operating their own servers is a major hassle. When issues occur specialist technical personnel are required on-site to investigate, diagnose and resolve server problems. With F2 Cloud these problems are prevented to ensure access to your dealership software is reliable .
#3 Access F2 Anywhere
With F2 Cloud, All Employees Access the Software over the Internet.
The dealership workforce is now changing. Whether you travel in to work every day, work from home or are constantly on the road, F2 Cloud has the ability to deliver. In addition to F2 being fully-integrated from the ground up, all dealership staff have access to their dealer management system at any time and from anywhere, 24 hours a day, 365 days a year.

#4 Share Information
Collaborate on Projects & Share Information in Real-Time.
Multi-Location Dealership? F2 provides a seamless workflow between multi-site, multi-franchise dealer groups. Staff can easily share information in real time across all locations.
Share Valuable Information:
Parts inventory
New and used vehicle information
Customer accounts and credit limits

Workshop jobs
Management have the ability to see all essential key performance indicators for each department in the dealership. Choose between individual reports or reports geared towards comparative analysis of the dealer group.
#5 Scalable
Software that Grows with Your Dealership. No More Hardware Investment.
F2 Cloud is scales with your business, in the cloud the need for expensive hardware investment is avoided. Traditionally at a site where the dealer manages IT, situations such as the dealership expanding to another location, the hiring of additional staff or upgrading Windows create the necessity for a dealership to invest in greater IT Infrastructure.
F2 Cloud removes the need for expensive IT investment. If you do grow or expand your business you only need to request more user licenses. From here, we'll upgrade your servers based on your new needs, plus add all appropriate software licenses.
F2 Cloud is strongly recommended for dealerships who are planning on continued future growth.